No doubt you will have many questions to ask your wedding photographer! Here are some of the ones that we get asked most frequently…
Q: What packages do you offer?
A: Every wedding is different, and every Bride & Groom will require something different from their photographer – therefore, we don't offer packages or 'deals' as one size rarely fits all. Each wedding that we shoot is a bespoke piece of work, custom made just for you. It is your special day, one of the most important of your lives, so why settle for off-the-shelf, when you can have made-to-measure?
Q: How much do you charge to shoot a wedding?
A: Without understanding your exact requirements for your wedding photography, it's almost impossible to be able to give you an accurate and meaningful quotation. Some photographers will offer various 'package deals', which are fine for guidance purposes, but beware of additional costs if your wedding doesn't 'fit' exactly with what they are offering. Packages are great for the budget-conscious, but they can be highly restrictive and can often dictate how your wedding is captured. Why not
contact us
, for a no-obligation chat, so we can talk through your needs and ideas and I can then provide you with an accurate quote?
Q: How long do you spend shooting the wedding?
A: This depends on your requirements. Some Brides (with their Bridesmaids etc) like to have their preparations documented, so this would increase the amount of shooting time. Typically, we will spend between 8 and 10 hours on a full days shoot.
Q: If we want you to stay for longer and shoot the evening reception, is that possible?
A: Normally, we will stop shooting after the First Dance – this is the traditional time when a wedding photographer will pack up his / her gear. However, if you decide that you would like us to stay for longer and capture some of the evening celebrations, we can either agree this in advance during the planning stage, or even on the day itself. Additional costs will apply for extended shooting time.
Q: How do we make a booking?
A: Prior to deciding whether or not you would like us to capture your wedding day, we would have a consultation meeting where we will visit you to discuss your requirements and ideas. Once we have the relevant information, we will offer you our quotation and, if it is acceptable, will complete a comprehensive Wedding Plan document that details your exact needs. A Wedding Photography Contract would also be signed and agreed by both parties. To arrange a no-obligation consultation meeting to discuss your requirements, please contact us using the 
Contact Form
Q: Do we need to pay a deposit?
A: Yes. Once the Wedding Photography Contract has been signed, a non-refundable Booking Fee of 25% will secure the time and services of the photographer. This deposit will be deducted from the overall fee, and the remaining balance will be payable on delivery of the Presentation Disc.
Q: Do you edit all of the images that you've taken?
A: The short answer is "No!". A typical wedding will normally yield around 1,000+ photographs, however we will edit and present only the most suitable and successful images, and ones that meet our stringent quality criteria – usually 150-200 depending on the length and complexity of the wedding shoot.
We like to offer our brides and grooms a balanced set of images that are (a) what the client has requested in the planning stage, specifying what images they wanted (b) what we think either makes a good story-telling photograph or is a memorable part of the occasion, and (c) is an accurate and sensitive reflection of the Bride and Grooms big day.
Once we have reviewed every photo, and have applied the above quality filters, we have a set of images that we will then work with to ensure correct and consistent colour, contrast and tone etc. Rest assured that every single photograph that you receive will have been painstakingly and professionally prepared.
Q: How many photographs will we receive?
A: Once the photographs have been edited, you will receive a 'Presentation Disc / USB' containing all of the edited images (see above). The purpose of the Presentation Disc / USB, is for you to select which images you would like printing in your Book. Normally, this would be around 100 photographs, however more can be added if required.
Q: When will we see the photos from our wedding day?
A: Following your wedding day, we will arrange a convenient date and time when we can visit you at home with your Presentation Disc. This would normally happen around 2-3 weeks after your wedding (refer to
Timeline
below).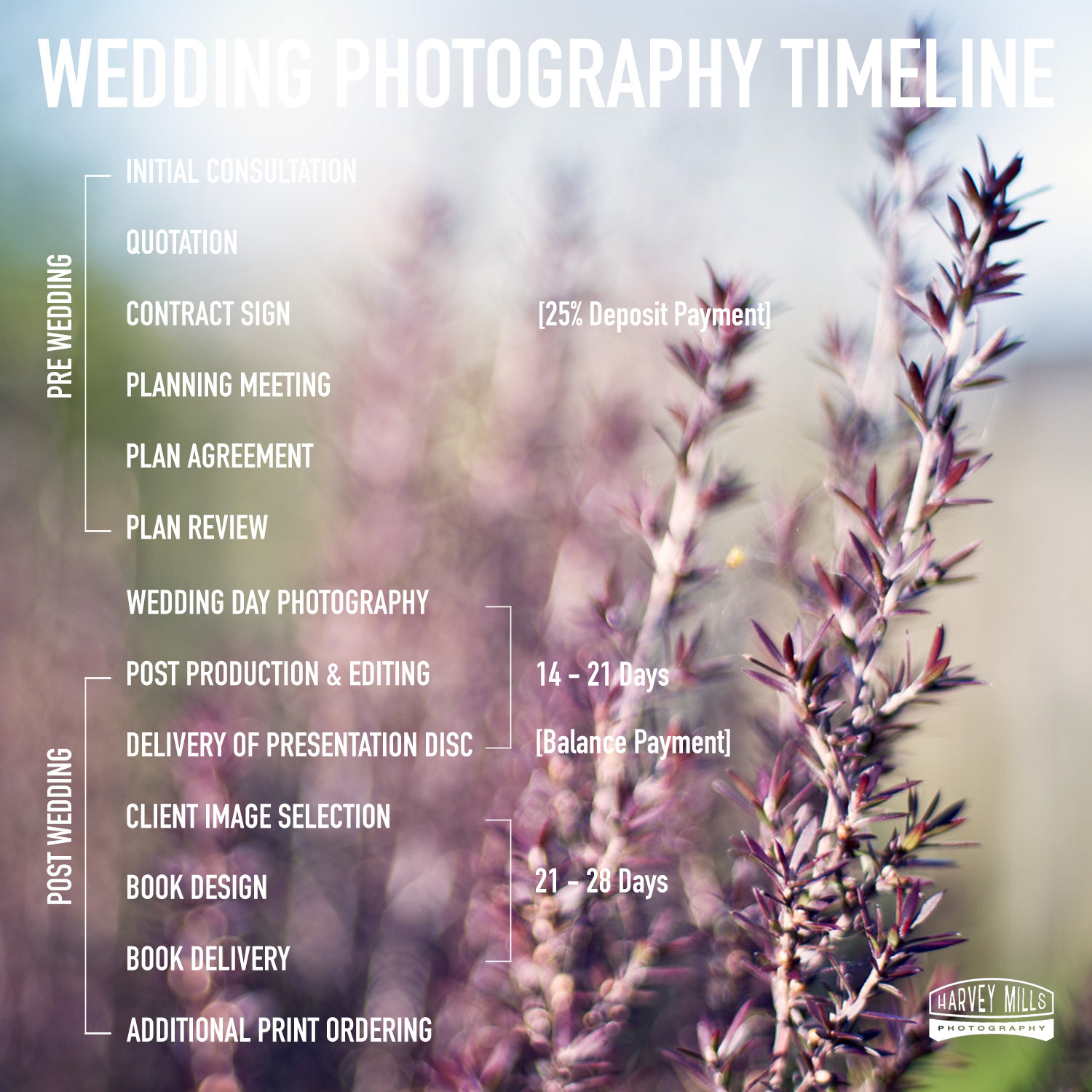 Q: Can we print our own photographs?
A: The images on the Presentation Disc / USB are not suitable for print purposes but are ideal for selecting your book photos, sharing on Social Media platforms such as Facebook, or displaying on a TV screen / monitor.
Q: Can our family / friends order copies of the book and / or prints?
A: Copies of your Photo Book and prints can be ordered by completing a Print Order Form.
Q: Can we share our photos on Facebook / social media?
A: Of course! The images on the Presentation Disc can be uploaded onto Facebook or the Social Media platform. You will also get a link to a secure area of our website, that will display the images from your disc. This link and password can be shared with family and friends.
Q: How soon will we receive our Photo Book?
A: Once you have made your final book selection from the images on the PresentationDisc / USB, we will design your book layout and prepare the images for printing. Once the design is finalised and sent to the printers, you will receive your book approximately 4 weeks later.